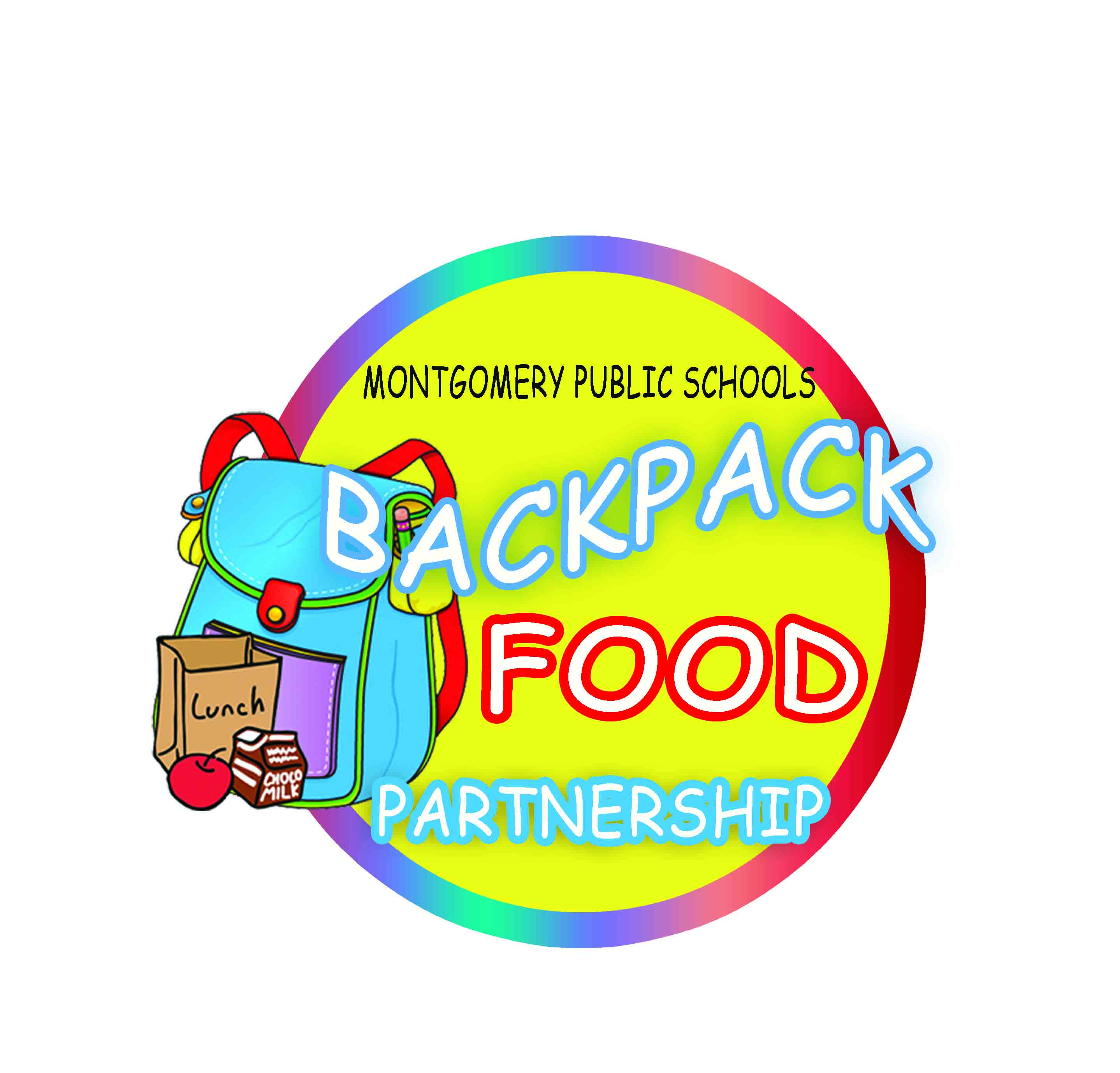 Montgomery Public Schools Backpack Partnership - Information for Churches and Organizations Interested in Adopting A School
What is the MPS Backpack Partnership?
The MPS Backpack Partnershipis made up of a group of churches, community organizations and concerned citizens who are committed to meeting the needs of Montgomery's hungry children. Though Montgomery Public Schools provides no cost breakfast and lunch for all students while school is in session, there are still pockets of students who leave for the weekend and go to homes where there is very little to eat. Food insecurity is especially felt when during extended holiday breaks or when school is not in session.
The backpack program works like this: each week, church or organization volunteers purchase and pack healthy, nutritious meals or snacks that are delivered to the school on Friday and discreetly placed in a child's backpack. These meals or snacks provide food that a child can eat over the weekend, or during extended holiday breaks. It is conducted in a way that students do not feel embarrassed in front of their peers. They are given a code word or a subtle announcement is made that lets them know its time to pick up their food bag, which is usually at the end of the school day, as they are leaving the building. As a family's situation improves, parents can opt-out of the program.
How are children identified?
Montgomery County has a poverty rate of about 21.7 percent — that's about 42,000 people, according to 2014 Feeding America stats. Somewhere in that number it is believed that some 12,000 children in our community are hungry. About 76% of MPS students qualify for free and reduced lunch. The churches who participate in the program use this information as a baseline of information to determine what the needs are in the school they want to adopt and how many children in a school they are able to provide food to. Churches and organizations rely on teachers, staff, counselors and principals to help refer children who are could benefit from their backpack program. School staff watch for signs like:
§ Stomach growling § Headache § Light-headed feeling § Grumpiness/sadness § Lack of Energy § Shakiness/Weakness § Hoarding food or snacks § Chronic illnesses
Younger children often tell their teacher that they are hungry or that they do not have food at home.
What's in the Bag?
Each weekend food bag contains enough food for two breakfasts, two lunches, two snacks, and one can of vegetables and one can of fruit. Each program determines what will go in the bag each week. Food varies from program to program. In addition, parents indicate on the Backpack Parent Consent Form if their child is allergic to certain foods. All food in the bags are nonperishable. Here are some suggested items that can go in a food bag:
Tuna

Individual packs of grits, oatmeal or cereal

Cereal bars/multigrain bars

Beef stew

Chili

Chicken soup

Ravioli (very popular)

Mac & Cheese (very popular)

Peanut butter and jelly

Canned carrots

Green beans

Fruits (canned or fresh)

Boxed fruit juice or milk

Crackers

Chips

Pudding cups
It's important that cans and packages fit into a grocery bag or two gallon-size zip lock bag. Large or heavy cans or oversized boxes are difficult for smaller children to carry and conceal in a backpack. Think individual portion sizes that will feed a child over two days--- Saturday and Sunday.
Where do I purchase my food?
Churches and organizations have the option of creating an account at the Central Alabama Food Bank, purchasing food from a grocery store, or by collecting food donations from members. Each church or organization supports its own programs. Those who wish to donate food or money can make the donation DIRECTLY TO THE CHURCH OR ORGANIZATION. Montgomery Public Schools does not collect food donations or solicit funds for the churches or organizations in the partnership to support their individual backpack food programs. We ask that when you adopt a school that the bags you pack be the same or very similar for each child. This eliminates any confusion among the recipients. Depending on what you choose to purchase, bags can run anywhere from $3-7 each.
How do I start a backpack program?
Starting a program takes commitment and a strong desire to meet the needs of students who need food assistance. It's important that you determine how many children you can serve and that you committee to serve a school for one full school year. You can contact Mona Davis in the MPS Communication Office (334) 223-6844, to connect with a school and find our more information. The backpack partners are also available to offer advice on how to set up your backpack program.
Once a backpack partner determine how many children they can serve, the school will give the parents of the students the Backpack Parent Consent Form, which gives your church or organization permission to provide their child food. The program is voluntary and only those who sincerely want the food assistance are given the food. This minimizes waste and helps us make sure we are actually meeting a family's need.
Churches and organizations can also use the form to track how many children they will serve our church is serving and foster ongoing, voluntary communication with the parent, if that is desired by the parent. You can also use the optional Backpack Feedback Form (a generic sample is included) to solicit input about your program and how you can make it more effective.
What if my church or organization cannot afford to adopt a school at this time, but still wants to help?
If you are not able to make a full commitment, there are many ways you can help meet the needs of our hungry students. You can:
• Hold a food drive, then donate the non-perishable food items to one of the partner churches or organizations to support their backpack program
• Volunteer by helping a church or organization pack and/or deliver the backpacks to the school
•Make a donation directly to one of the partner churches or organizations that is earmarked for their backpack food program
Montgomery Public Schools Backpack Partnership
For more information about the Montgomery Public Schools Backpack Partnership, contact Mona Davis at Montgomery Public Schools at (334) 546-7181 or EMAIL: mmona4@hotmail.com or contact any of the partners directly. They can provide detailed information about their programs and how you can help them.
True Divine Baptist Church Community Development, Inc.
Feeding Hands Backpack Program
Schools Served: Brewbaker Primary, Intermediate and Middle
Contact: Pam Williams- (334) 286-4008 Email: FeedingHandsBackpack@aol.com
Montgomery "Food for Kids"
Schools Served Davis Elementary, Highland Gardens Elementary (with the Nehemiah Center) and Southlawn Elementary (with Maxwell Officers Club)
Contact: Khristen Carlson- (334) 300-4835 threecubed73@gmail.com or Facebook
Frazer United Methodist Church
Schools Served: Dozier, Dalraida and Garrett Elementary
Contact: Becky VanGilder- (334) 272-8622 Email: beckvg@knology.net
Zion Fellowship UMC/ Frazier United Methodist Church
School Served: Seth Johnson Elementary
Contact: Rev. Robert Spicer Email: spicer@knology.net
Trinity Presbyterian School Key Club
School Served: Vaughn Road Elementary
Contact: Mike Zavato - (334) 213-2100
Hilliard Chapel AME Zion Church
School Served: Highland Avenue Elementary
Contact: Rev. Catrina Waters- (334) 538-0733 hilliardchapelamezion@gmail.com
Aldersgate United Methodist Church
School Served: Chisholm Elementary
Contact: (334) 272-6152
Floyd Elementary- St. John's Episcopal
School Served: Floyd Elementary
Contact: Rebecca Miller- (334) 262-1937 Email: rmsmiller@charter.net
E.D. Nixon PTA
School Served: E.D. Nixon Elementary
Contact: Dana Williams, Principal (334) 269-3012 Email: dana.williams@mps.k12.al.us
Christ Community Church
School Served: Wares Ferry Road Elementary
Contact: Krissie Womble – (334) 546-4590 Email: krissiewomble@knology.net
City of St. Jude
School Served: Carver Elementary
Contact: Douglas Watson – (334) 265-6791 Email: dwatson@cityofstjude.org
Bethany Seventh Day Adventist
Schools Served: Davis Elementary
Contact: Carletta Abernathy (334) 590-1428/277-7121 Email: abernathyw2@gmail.com or Tonjia R. Cook (334) 819-4949 Email: trcook8@yahoo.com.au
Anointed Warrior Hill Church
School Served: Dunbar Ramer School
Contact: Jackye Pinkard- (334) 531-1406 Email: pinkards15117@yahoo.com
Montgomery Alumnae Chapter of Delta Sigma Theta Sorority, Inc.
School Served: T.S. Morris Elementary School
Contact: Dr. Teresa Brown/Patricia Hill (334) 546-8726 Email: Hillpa1216@gmail.com or tbrowndpm134@gmail.com