HIPPY now accepting applications
Montgomery Public Schools' Home Instruction for Parents of Preschool Youngsters Program (HIPPY) is now accepting applications from parents or legal guardians of children ages three and four who are not currently receiving pre-kindergarten services. HIPPY is a school readiness program that partners with parents to prepare their children for success in school, particularly those most at risk because of poverty, limited education and English proficiency. HIPPY works directly with parents in their homes to give them books, activities and the skills needed to help them prepare their child for kindergarten. MPS parent educators deliver 30 weeks of high quality school readiness curriculum activities and books and other support directly to parents, who then work each day with their child.
To apply for the program, parents or legal guardians should call Laura Collins, Program Facilitator, MPS HIPPY Program Office at (334) 269-3769. The deadline to apply is August 31. A flyer for the program is available HERE.
Praise for the first day at Davis
One parent was truly impressed by the first day at Davis Elementary, which featured Faulkner University students cheering on the Davis students as they entered. Listen to her voicemail to Montgomery Public Schools HERE.
Welcome back!
Superintendent Margaret Allen's back-to-school message for parents and students:
Parents and Students,
Welcome back! We are so excited to begin the new school year and to have you as part of the MPS family. It is our mission to engage, educate and inspire our students to succeed in college, career and beyond, and we look forward to partnering with you to achieve it. We desire to have a great relationship with your family that opens the door for communication about successes and concerns; together we can solve and resolve any issues that interfere with student learning success.
Administrators and teachers have prepared classrooms, learning environments, lesson plans and strategies to enhance learning opportunities. When our students commit to work hard and do their part in school, they reap big dividends for the future. A good start to the year, which includes daily attendance, being on time, and completing homework assignments can offer countless benefits for the rest of the year. Parents, please know that you play a critical role as partners in supporting both your students at home and our work in the schools. We hope that you will join us by meeting your administrators and teachers in your school's open house, and joining the PTA/PTO.
MPS is a wonderful learning community. I feel so privileged to be a part of it. This is a very special place, and my colleagues and I appreciate the trust that you've shown in us by sending your children here every day. We will do our best to ensure they have a fulfilling, happy and safe year.
Can't wait to see you!!
Sincerely,
Margaret Allen
Superintendent
2016-17 Back to School Community Report
Click HERE to download the new 2016-2017 Back to School Community Report .
2016-2017 Calendar
You can review the new 2016-2017 school calendar with details for each month by clicking here.

Latest round of National Merit Scholarship winners includes 10 from LAMP
The National Merit Scholarship Corporation has announced its latest round of scholarships, and 10 of the recipients are Loveless Academic Magnet Program students. Hyun W. Cho, Ayla Eberly, Andrew J. Jones, Ashish S. Kaushik, Anna C. Norris, Riley K. Segars, Minye Seok, Weston W. Straw, Pamela J. Swan and Jade Victoria Teel have all received university-sponsored scholarships, the NMSC announced.
LAMP has a total of 17 National Merit Scholarship finalists for the 2015-2016 school year. This is the latest round in a series of forthcoming announcements about recipients of university-sponsored scholarships.
When the finalists were first announced, Swan said she planned to study medicine, and in particular pediatric anesthesiology. The scholarships are one sign that she and the other finalists are reaping the rewards of their hard work during their time in Montgomery Public Schools.
"It seems rough now, but it will help you," she said at the time of the initial announcement. "And that's a lot of the fun of senior year, is everything starts to kind of pay off."
Report: LAMP, BTW, BREWTECH are best schools in state
Montgomery Public Schools has the two best high schools in Alabama and three of the top 15 in the state, according to the 2016 U.S. News Best High Schools rankings. Loveless Academic Magnet Program was once again named the best high school in Alabama, and Booker T. Washington Magnet High School is ranked second. Brewbaker Technology Magnet High School was ranked at 15 on the state list. LAMP and BTW were the state's only high schools to be recognized as national Gold Medal Schools. Brew Tech was one of 27 high schools in Alabama awarded Silver Medal status.
LAMP has a national rank of 34, BTW is at 393 nationally, and Brew Tech has a rank of 1,530. The U.S. News rankings examined data from more than 21,000 public high schools across the country. The schools were ranked by state assessments, graduation rates and preparation for college.
You can find the U.S. News Best High Schools rankings for Alabama at The U.S. News website.
MPS makes mark in state ACT score comparison
Montgomery Public Schools has three of the top 25 high schools in the state when it comes to composite ACT scores, including the state's No. 1 school.
Loveless Academic Magnet Program is best in the state with a composite score of 28, two points higher than the number two school. Meanwhile, Booker T. Washington Magnet and Brewbaker Technology Magnet are tied for 11th in the state with a composite score of 22. The Public Affairs Research Council of Alabama compiled the list from the 2015 ACT test, and the news website al.com published the results.
BrewTech robotics teams go to world championship
BrewTech Robotics teams traveled to Louisville, Ky., to compete in the 2016 VEX World Competition. The 15 BrewTech students competed against students from 500 high schools from 37 countries and all 50 states, with more than 16,000 students in attendance. The team of Leo Hall and Dustin Smith was awarded the VEX Service Award for outstanding service to other teams in the engineering division. Of the more than one million students who participated in VEX Robotics competitions this season, only 500 made it to the World Championship.

Bear Exploration Center named National Blue Ribbon School
Bear Exploration Center is one of only 285 public schools in the nation to be named a 2015 Blue Ribbon School. Bear is one of five Alabama schools to receive the honor this year. It was designated an Exemplary High Performing School, which means it was one of the state's highest performing schools based on state and national assessments. The U.S. Department of Education chooses the Blue Ribbon Schools each year based on overall academic excellence or progress in closing achievement gaps.
| | | | |
| --- | --- | --- | --- |
| | | | |
| | | | MPS "Be There" Parental Involvement Campaign: There are lots of ways a parent can become more involved in their child's education. Click HERE for some suggestions. |
| | | | |
| | | | |
Montgomery Public Schools Backpack Food Partnership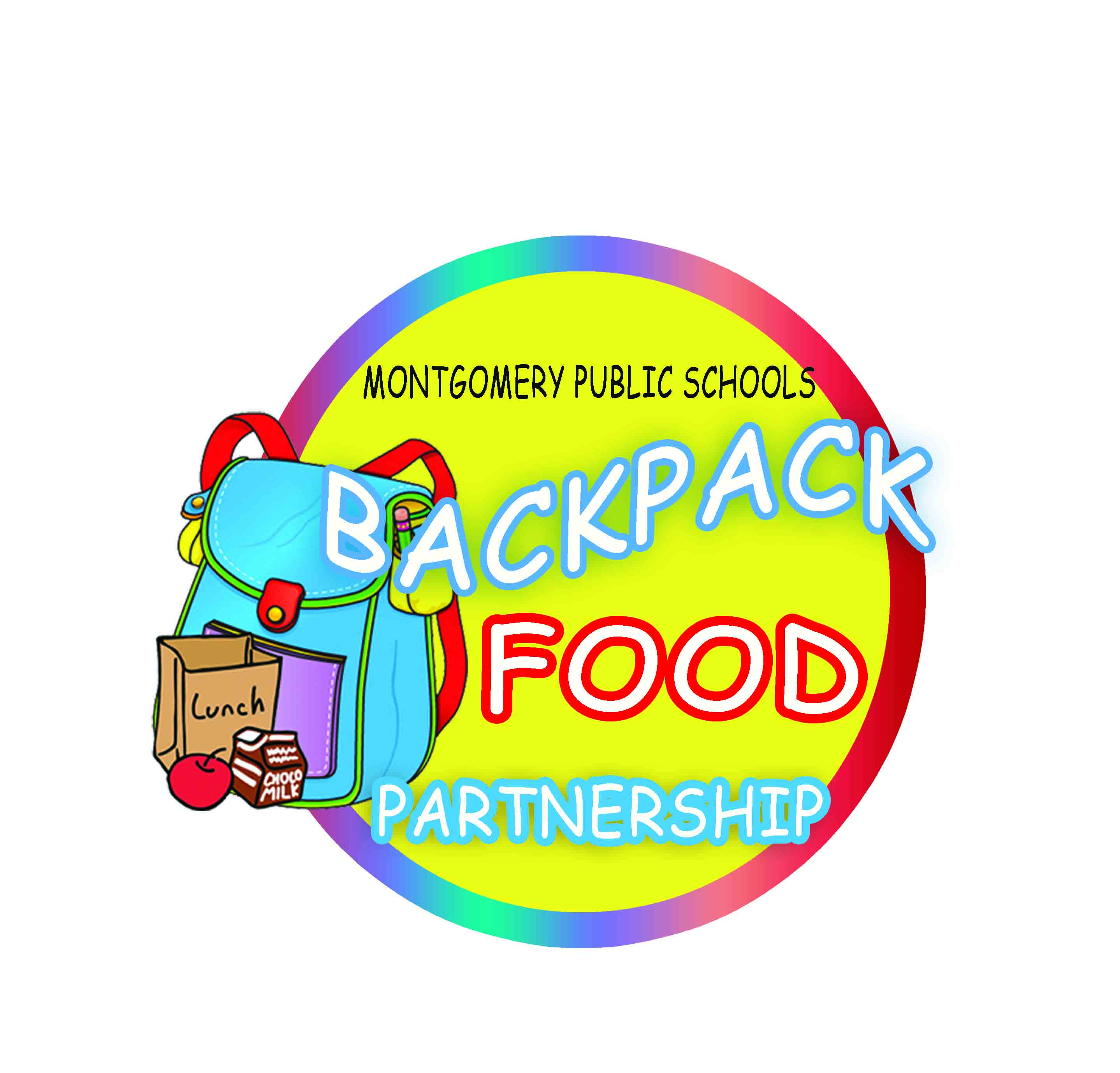 MPS is inviting those interested in helping students who have been identified to be at risk for food insufficiency through its Backpack Food Partnership. We know that many families take advantage of MPS' no cost breakfast and lunch programs, but it is also very likely that some children go hungry over the weekend and during extended school breaks because there is little to eat at home. For more information about becoming a partner or to learn how you can help, click HERE.
MPS Offers No Cost Breakfast and Lunch Meals for Students
Montgomery Public Schools' Child Nutrition Program is participating in the Community Eligibility Provision (CEP) of the Healthy, Hunger-Free Kids Act for the 2016-2017 school year, which means all MPS students can receive breakfast and lunch at no charge. One breakfast and one lunch meal will be served to all students at no charge regardless of the eligibility status. Additional student meals will be charged the normal price of $2.50 for student breakfast and $3.75 for elementary, middle and high school student lunch. A la carte item pricing can be found HERE. Faculty meals will remain $1.75 for breakfast and $3.50 for lunch. Adult visitor meals will remain $2.50 for breakfast and $4 for lunch.
Algebra Matters!
Algebra I is the first in a series of higher level mathematics courses. Studies have shown that students who take Algebra I, Geometry, Algebra II and one additional high-level mathematics course, are much more likely to do well in college mathematics. However, Algebra I is not just for the college-bound student! Research has identified that mathematics skills required to work as an electrician, plumber, or upholsterer were comparable to those needed to succeed in college.
Algebra I is, in short, the gateway to success! As a result, Montgomery Public Schools would like to share with you resources that your child will find beneficial for preparing him/her to be successful in Algebra I during the 2016- 2017 school year. The resources provided are engaging, interactive, student-centered and FREE!
Click Here for a quick pre-algebra refresher that will help you get ready for Algebra 1. You can even print the workbook or individual lessons.
Click here for more educational links including algebra.
Past school board meetings are now posted to our Youtube Channel. Click the Youtube icon on our homepage or subscribe to our channel at the link below.
https://www.youtube.com/channel/UCSoEdJw-pBM9-PRlVTCv-Kw/feed?view_as=public
Follow MPS Athletics on Twitter!
Get updates and great info @MPSAthletics!
Help Our Schools!
Join with your friends, members of your civic group, or those you worship with to help our schools! There are dozen of projects at schools throughout the county that can use your help. It is a great way to help our schools and bond with your friends and family. Click here to see the projects and to find out how you can get involved.
Sign Up for Email and Text Notifications!
If you wish to receive emails and text messages on the latest MPS news, click the Notify Me button at the bottom of the menu on the left side of this page. Just follow the instructions and be sure to check the Communication Sign up box. You will receive an email to confirm your address before you will begin to receive notifications. There is no charge for text messages by MPS, but unless you have unlimited texting on your cellular phone plan, your carrier's rules and rates will apply.
Please encourage others who have an interest in our schools to sign up.
STI Home
The INow Parent Portal (STI HOME) is available to any parent. This tool allows parents to view information on their child's progress, grades, attendance, etc.
To ensure the security of the information, parents must obtain a password from their child's school in person. A state-issued photo ID will be necessary to receive a user name and password.
ONCE YOU HAVE YOUR NEW USER NAME AND PASSWORD ACCESS IT THROUGH THE "FOR PARENTS" BUTTON ABOVE, CHOOSE "STI HOME", THEN THE WORDS "CLICK HERE".